The venue for the G7 Summit in 2021, Carbis Bay in Cornwall is a beach resort just over a headland from St Ives, built around a steep-sided sandy bay, with a hotel at sea level and modern streets spread over the slopes above.
Having stayed twice in Carbis Bay, I'd say it's a good base for a holiday if you know what to expect and don't mind a slightly surburban atmosphere. Neither a character-filled fishing village, nor a buzzing established town, this satellite of St Ives is mostly modern-built, with the feel of a retirement or commuter suburb, with a dash of holiday resort thrown in. It has three big advantages as a holiday destination: a wide sandy beach,  a railway station, and proximity to St Ives – and if you pick the right accommodation you can get fabulous views.
Carbis Bay wouldn't have been much more than scattered dwellings, big houses and a hotel until the twentieth century advanced. Then the developers moved into this scenic spot, building streets of suburban bungalows, villas and terraces winding along the slopes above the railway line and around the main St Ives road. The first time I arrived I was surprised by how unchecked this urban growth seemed to be by the planning controls which keep most of Cornwall's coastline attractive and unspoilt. Considerable development has been permitted in recent decades and is ongoing,  with smarter, larger houses being built in 'gaps' between existing buildings, or replacing demolished earlier buildings.
There are increasing numbers of holiday apartments and house rentals in Carbis Bay, as well as a limited amount of hotel and B&B accommodation. The beach itself has public access but is privately owned by the seafront Carbis Bay Estate, a historic hotel which has also expanded in the last few years, even before the G7 led to another building frenzy. The hotel operates seasonal beach facilities including a restaurant-café, beach shop and sports.
With its wide expanse of clean, smooth sand extending gently into the sea, Carbis Bay is an excellent beach for small children and families. As most of the beach is backed by green slopes and low cliffs, it has a more idyllic and natural feel than the town beaches of St Ives. The long stretch of sand is ideal for playing, building sandcastles, paddling and swimming. There are even the remains of shipwrecks visible sticking out of the sand at low tides. The proximity of other fine, sandy beaches along this stretch of coast means that this particular bay doesn't get as crowded as it would in any other location.
With a railway station and bus service, proximity to St Ives and wide-sweeping views, this is a practical base for a holiday. It lacks the picturesque old buildings and lanes, and the historic atmosphere of traditional Cornish fishing villages, but in other respects Carbis Bay has a good deal to offer.
A steep narrow road leads down from the main road to the sands. Note that it can be a tiring walk climbing back up at the end of the day (especially if you are with young children or elderly relatives); I wouldn't recommend this as a beach destination for visitors with mobility issues. Down by the sea is the Carbis Bay Hotel with its restaurant and seasonal beach facilities, takeaway food and beach equipment for hire. A few holiday homes are also located lower down, not far above sea level, but the majority of the settlement is a 10-15 minute walk uphill. The railway branch line connecting St Ives with the mainline at St Erth runs across the slope between the main part of the town and the beach. In the higher part of town there is a Tesco supermarket, a pharmacy, a take-away and a small number of restaurants and pubs. Visitors won't find a huge choice of shops or eateries here; Carbis Bay is more like a dormitory suburb than a town centre.
St. Ives is visible from parts of Carbis Bay, the pretty little town shimmering on its headland, with the promise of glorious sunsets. It's a 3-minute scenic train journey away, or a pleasant 45-minute walk along paths and lanes which begin at the Carbis Bay Hotel, climb up over the headland through woods and houses, and descend through trees to Porthminster beach in St Ives.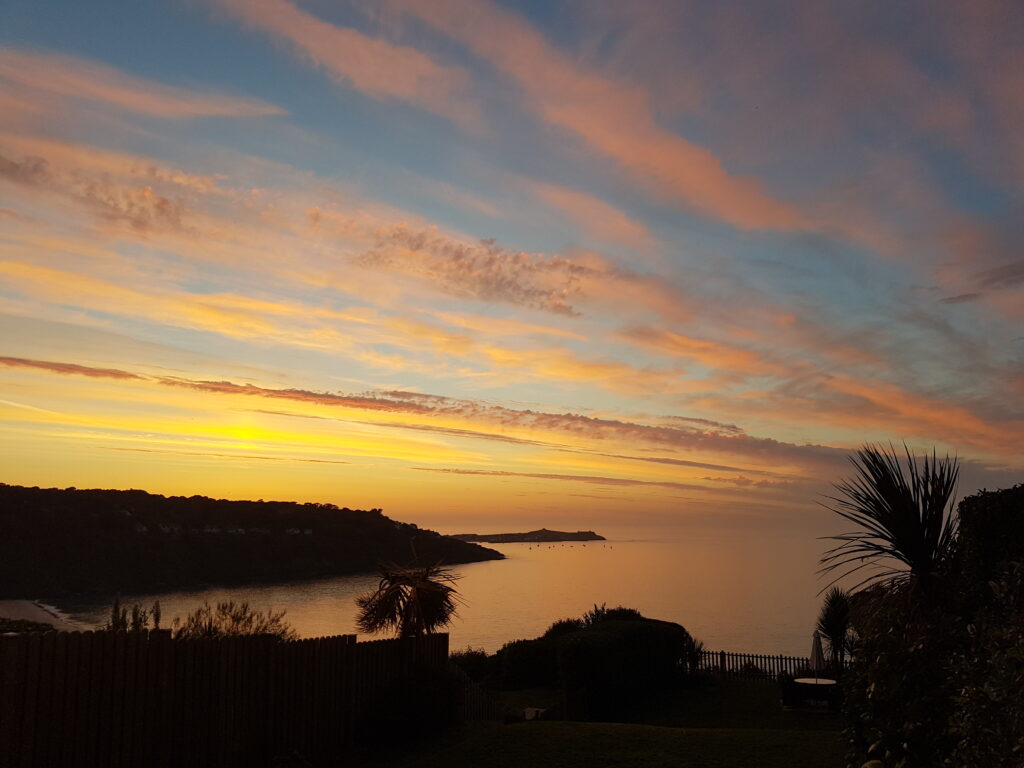 Unless you are content with the beach and the views, you'll probably be taking the train or driving out to other attractions -the National Trust headland at Godrevy Point offers epic views and the chance to see seals. St Ives itself is a really delightful and lively fishing town famous for its artistic connections and its three glorious beaches.
In Carbis Bay you'll find a very small number of places to eat, near the main road (I liked the vegetarian/vegan The Bean Inn) and no really notable sights other than the beach and views. But the walk or rail journey into St Ives offers a big range of places to eat, drink and enjoy culture, including the Tate St Ives art gallery and the excellent Barbara Hepworth Sculpture Garden. And as St Ives can be so busy, it may be a relief to return to the more peaceful surroundings of Carbis Bay after an excursion or evening out.
Family holidays in Carbis Bay
I stayed in Carbis Bay as part of an extended family group, and it is a very suitable destination for the kind of vacation which encompasses different age groups and interests. There are large holiday houses with gardens and views, suitable for families, and the beach is ideal for young children, who'll also enjoy seeing trains passing along the single-track clifftop railway. By public transport and car you can tour other Cornish attractions. And St Ives offers bustle, shops, marauding seagulls, more beaches, and as many ice creams and Cornish pasties as you can find room for (and keep safe from the seagulls).  So there really should be something for everyone and a range of options for activities to enjoy together and separately.
Walking
I enjoyed the easy scenic walk from Carbis Bay into St Ives, and felt that partly compensated for what I felt Carbis Bay lacked in picturesque 'colour'. Dotted along the route are some of the larger houses built here by the wealthy before Carbis Bay was urbanised, as well as modern additions, and you can imagine a Riviera-style Cornwall as it might have been a century ago. Keep your eyes open for local notices, as some of the pretty private gardens around here are occasionally opened for charity.
If you're a keen walker, the stretch of coastline on the other side of St Ives, stretching westwards in the direction of Land's End, is gloriously wild and unspoilt. A highlight of my local stays was hiking along the coast path to Zennor, where you can relax with a pint at the local pub, visit the historic church, and catch a bus back to St Ives. There are open-top buses (Land's End Coaster) on this route, adding to the pleasure of the excursion.
Where to stay in Carbis Bay
Bear in mind that between the main road running through Carbis Bay and the beach there is a steepish walk. The only option next to the beach is the G7-hosting 4-star hotel and spa Carbis Bay Estate – this is convenient for beach-lovers, and has car parking, but as well as taking care to read the (mixed) reviews, it's worth remembering the hotel is at the bottom of  the slopes below the railway line, with the other local amenities some way uphill – this is fine if you want to stay by the beach, drive out or follow the footpath to St Ives, though. I have elderly relatives who've stayed at the hotel on Saga holidays; but it's been expanding in recent years with bigger, fancier ambitions, sometimes at the expense of the neighbouring woodland and coast path. They offer villas and suites and a range of rooms, and the beachfront location, at least, couldn't be bettered. A convenient choice if you want a fuss-free full-service break by the sea.
One of the next-nearest places to stay for the beach is Headland Road, where you'll find a scattering of holiday apartments and B&B accommodation, including the Beach View apartment, sleeping 5.  This clifftop road just above the railway line has great views – though as it's midway between main road restaurants and bus stops and the beach, you may find yourself walking a lot.
Further inland and higher above the sea, though near enough for convenient access and still offering some more distant sea views, is a choice of holiday rentals and B&Bs, mostly on or around the main St Ives road. While the walk to the beach and railway station may be longer, these accommodation options are practical for public transport and for eating out. These include Thurlestone House, a B&B (adults-only) in a handsome stone building, the quirky, colourful Sailaway B&B and the well-reviewed Green Apple B&B which offers some sea views from its position on the main road.
Between Carbis Bay and St Ives, with access towards the scenic coastal walk, is the popular Chy an Gwedhan B&B – a good-value compromise between the two locations. Situated on a headland away from the busy centre of St Ives, the small B&B has sea-view rooms, parking and a nice stroll down  to the beaches and the town.
If you'd like to stay independently in self-catering accommodation, one option for couples is the practical 11 Longstone House, on the edge of Carbis Bay. The two-bedroom Offshore apartment is on Headland Road, and convenient for beach and railway, with a terrace. Another modern two-bed apartment is Saffron, on the St Ives road and close to Carbis Bay's amenities. Sleeping six, the smartly-refurbished bungalow Menhyr is on the upper side of Carbis Bay with a garden and parking, recommended by guests as a peaceful place to stay with convenient access to St Ives and public transport.
Find a place to stay in Carbis Bay – with map, availability search and prices.
THANK YOU: The links above are all Booking.com affiliate links – if you book through these, you won't pay any extra but you'll be supporting this website.
Holiday letting companies with holiday homes, cottages and apartments in the area include Cornish Gems, St Ives Holidays, and Aspects Holidays.
How to get to Carbis Bay
Carbis Bay is a practical place to stay if you are travelling by car: St Ives is notorious for its parking and traffic problems but at Carbis Bay you'll find easy road access, and accommodation with parking spaces. You can then travel the short distance into St Ives by train, bus or on foot and be spared the bother of finding parking.
Carbis Bay is one of the easiest-to-reach seaside resorts in Cornwall for visitors arriving by public transport. Trains from London to Penzance stop at St Erth, a little branch-line station with a small waiting room and a little shop/café. From here frequent trains run along the single-track St Ives Bay Line, stopping at Lelant, Carbis Bay and St Ives; one of the most scenic railway lines in the country. Carbis Bay is also served by buses to destinations including St Ives, Newquay, Padstow, Land's End, Marazion, Zennor, Penzance and Truro.