When my mother and I took refuge from the rain at the Tregenna Castle Resort we would have been extremely surprised to be told that two years later the President of the US would be staying here, along with the First Lady and entourage. But the G7 Summit in Cornwall, at Carbis Bay, has brought many surprises to this beautiful part of the English coast.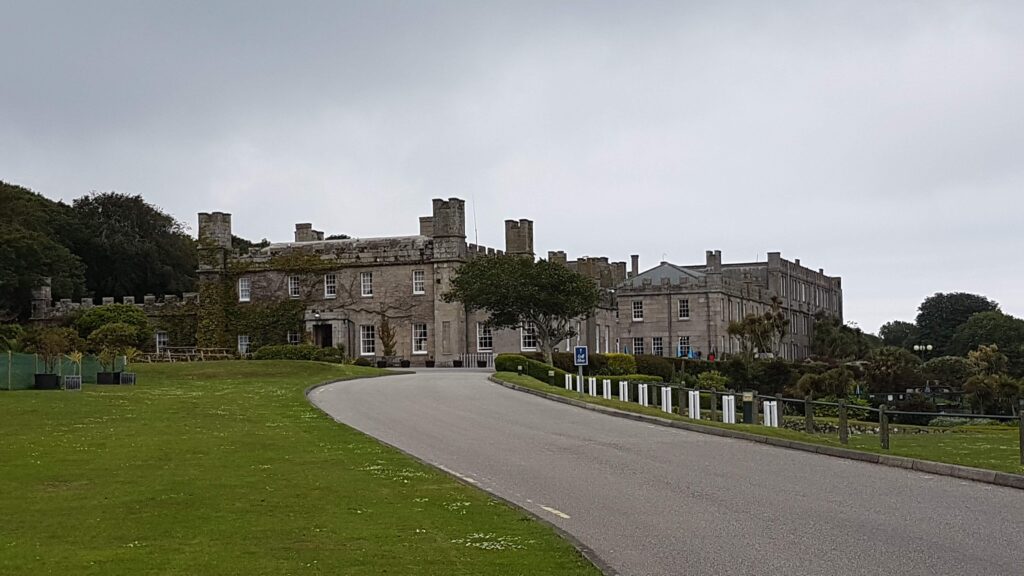 On a hill and slightly inland between Carbis Bay and the beautiful fishing/artist/tourist harbour of St Ives, the picturesque Tregenna Castle was built as a private home in the 18th century and 100 years later it became a railway hotel, operated by the Great Western Railway (GWR) which subsequently bought the hotel. It's changed a hands a few times since then, and is now operated as a hotel with an estate including a golf course, hotel, self-catering lodges, tennis courts, swimming pool and gardens. We learned some of this history while waiting for the rain to lessen and looking at old photos displayed in the hotel reception rooms.
I remember the interior and general ambience as being somewhat institutional and tired in feel, despite the grand potential of the property and its extensive, panoramic grounds. My mother disputes this, though – while agreeing it isn't somewhere she'd necessarily choose to stay. You'll find equally mixed opinions if you read reviews from the hotel's guests.
But the hotel's facilities have very likely been improved and updated for the illustrious G7 visitors. And one thing no-one could dispute is that the hotel has some real treasures, chief among them a gorgeous subtropical walled garden. We found this by chance, having no idea it existed, and were captivated by its magic, despite the Cornish drizzle. The hotel obviously has an excellent gardening team and really values its outdoor spaces.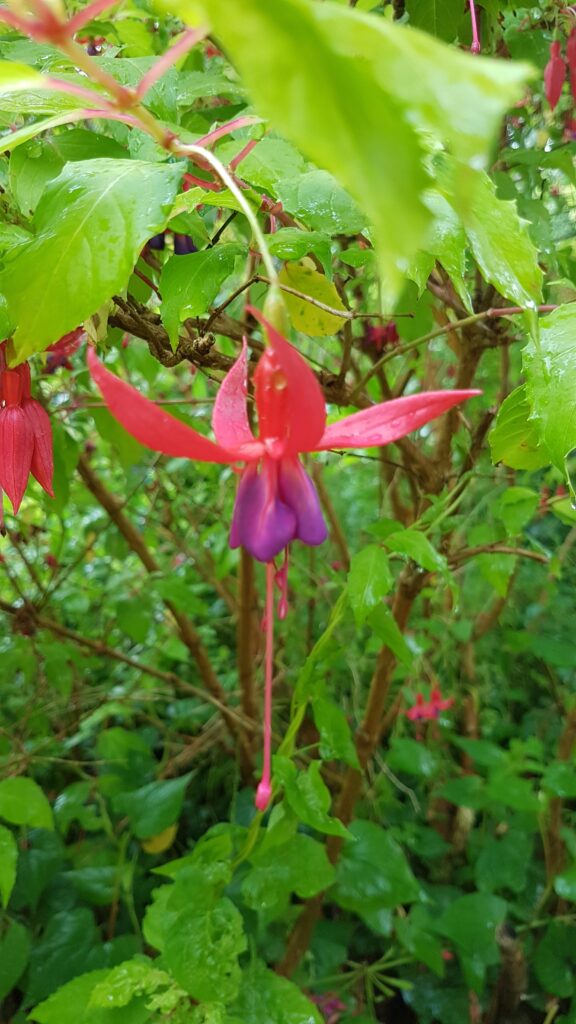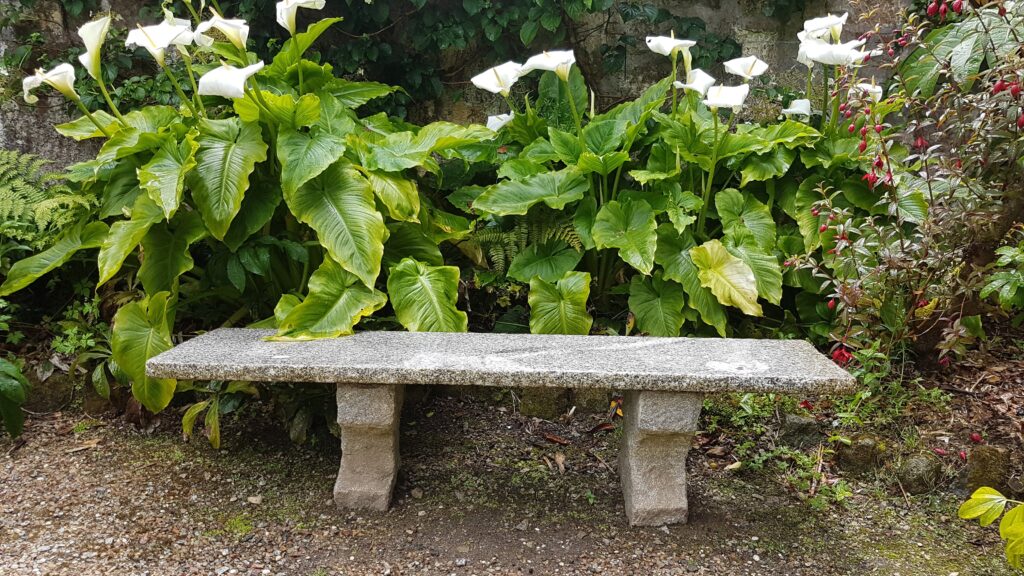 Until the heavens opened we'd simply been crossing the hotel's grounds on a walk from Carbis Bay to St Ives as an alternative to the pretty clifftop route (we were unsure if their paths were open to the public, but no-one stopped us). After the joy of the walled garden we followed the hotel's footpath downhill into St Ives. This too, is charming, even though modern chalets have been built alongside. The lush valley garden was another unexpected treat as we descended towards the town and the sea, bringing back memories of some of Cornwall's finest coastal gardens.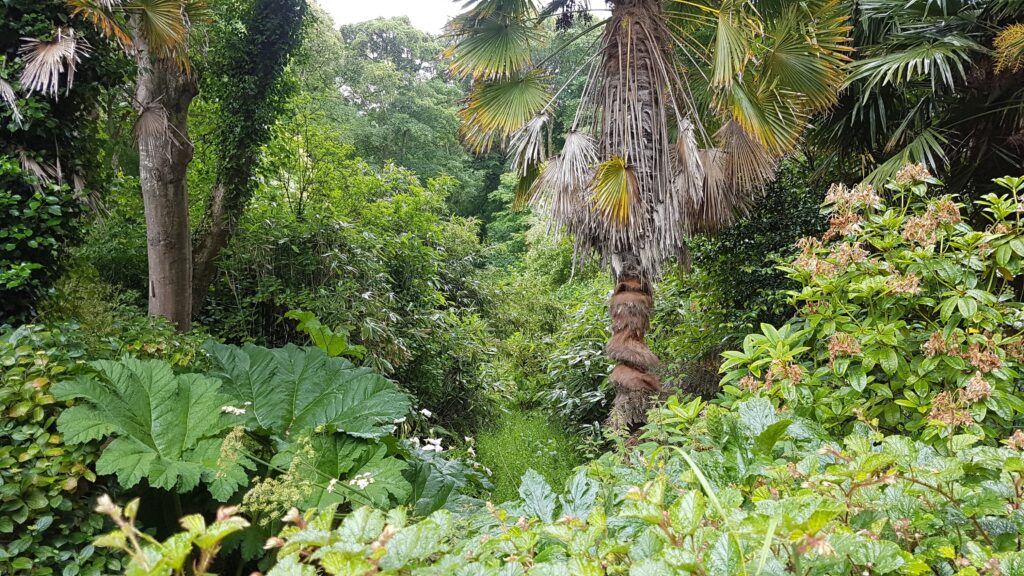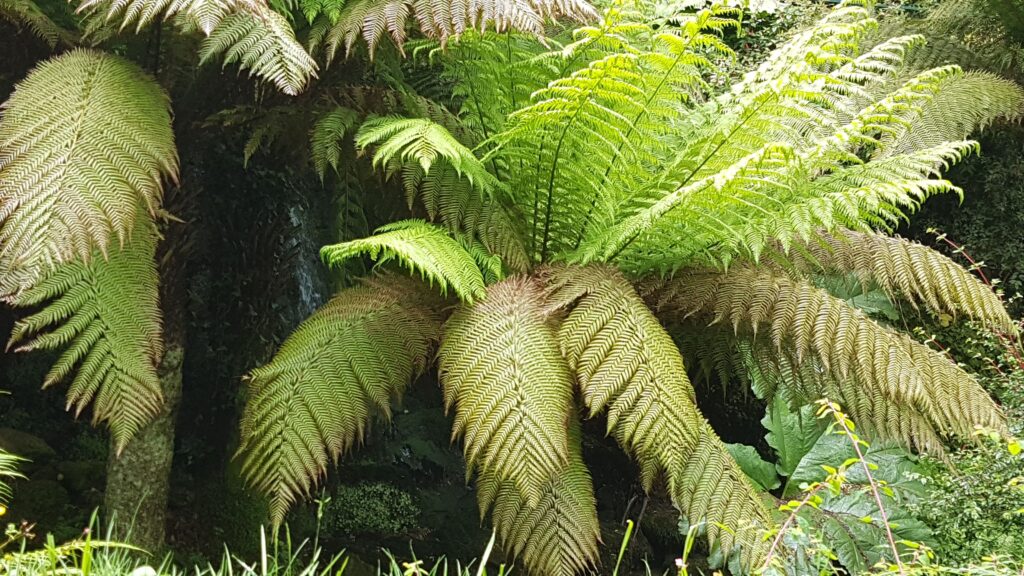 As well as global political summits, the hotel also hosts weddings and other events. Its size and multiplicity of offerings is maybe partly what gave it the 'institutional' feel that put me off; I'm used to smaller, more intimate Italian hotels.
I think there would certainly be some big advantages to staying in this attractive hilltop location and spending time in Tregenna Castle's glorious well-tended grounds, especially if you want to use the swimming/leisure facilities – but if you're thinking of it, I'd suggest reading recent reviews to get a realistic idea of what to expect, so your ideas aren't too romanticised. I imagine the self-catering cottages and lodges could be quite appealing bases for a family holiday.
Read reviews, and check prices and availability for the Tregenna Castle Resort

Note: this is an affiliate link. Thanks for helping.